Department of Plastic Surgery in EVITA Clinic
Members Of American Society Of Plastic Surgeons
Breast / Eye & Nose Surgery / Face Contouring
Professor of Korea University
CEO of Winners Plastic Surgery, Seoul, 2005
Advanced Healthcare Management Program(AHP), Seoul National University. 2012
Chief Doctor of Evita Clinic, Seoul, present
"Ideas and Innovations" in Journal of American Society of Plastic Surgeons, 2015
Certificate for "Lowest risk of Breast Contracture in World" by Allergan, 2014
This year's paper of Korean Society of Aesthetic surgery, 2015
Silver Winners in Research project, Advanced Healthcare Management Program(AHP), 2012
Winners of New intellectual Association Republic Korea, 2012
Member of Asia-Oriental Plastic Surgery
Member of Korean Society Of Cardiovascular Surgery
Visiting Scholar of Korea University
Executive director of Korean Society of Aesthetic Surgery
PRS Journal Ideas and InnovatIons
A New Concept in the Tip Plasty of Asian Rhinoplasty
This is a research paper published in the American Plastic Surgery Society (PRS) in April 2015. The American Society of Plastic Surgeons (PRS) is an internationally recognized academic journal (SCI). SCI grades means the grades of papers reaching the highest level of thesis. Nose surgery around the world is designed to meet Western body standards. Also at the university, the students all learn and operate on such standards. This research paper was recognized as the world's first surgical research paper from PRS to present Asian nose surgery reference points, not traditional Western-based surgical procedures.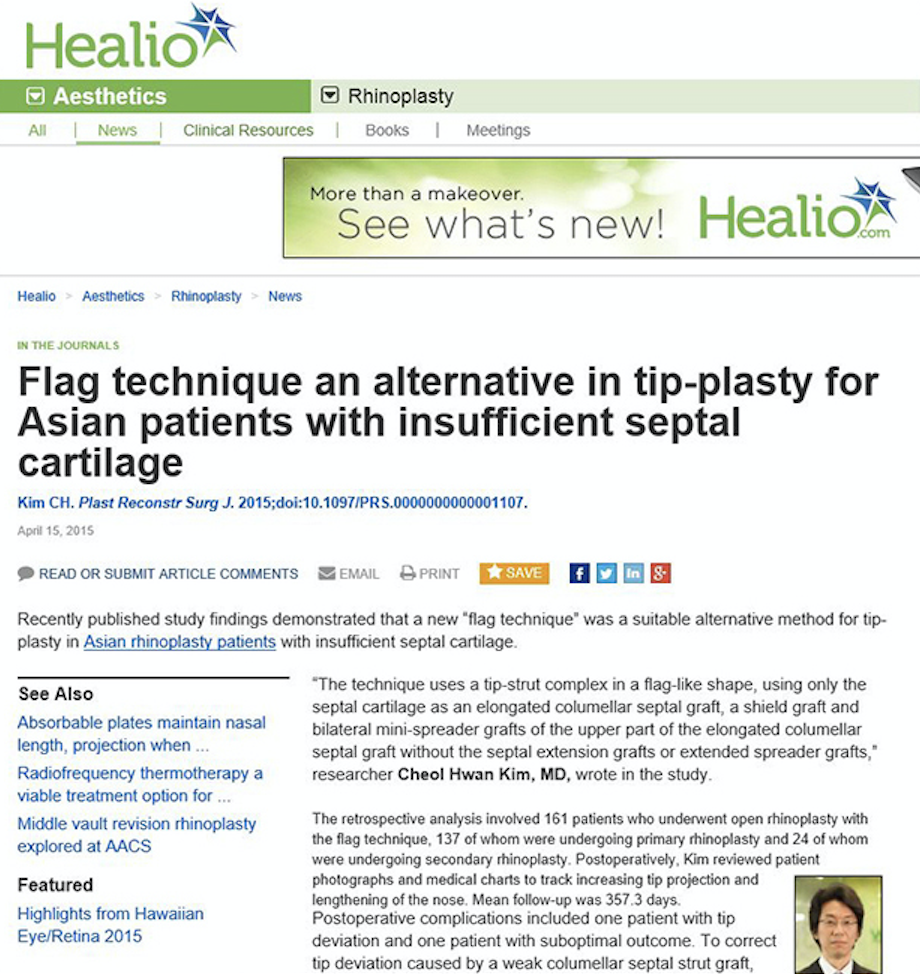 It's a research paper of nose surgery, which registered with the National Institutes of Health (NIH) and is an excerpt.

Thread Lift by Use of Retaining Ligaments (TL)
This is a research paper on thread lifting (facial elevation using thread), which is registered with the National Institutes of Health (NIH) and is an excerpt. The content is a new form of thread lifting. The use of retention ligaments to double fixation points proved to be much more effective than conventional methods, with fewer side effects, and this is proven by cumulative surgical results. This is the first research paper in the world to improve retention and improve the effectiveness of thread lifting as an operation using a retaining ligament.
This research paper is also an excerpt from the American Society of Plastic Surgery (PRS) and the National Institutes of Health (NIH). Similar with other plastic surgery, breast augmentation does not have a clear basis and methodology in case of Asian patients. This research paper is based on the results of the last 6 years of operation in Winners' plastic surgery. When re-operation is done, the implant that was originally inserted will return to the developer and the serial number will be checked to determine the re-operation rate of the medical institution. According to a report released in 2005 by Allergan, which is the world's largest breast implant company, the rate of re-operation for breast augmentation was 6-10% on average, but Winners' plastic surgery Dr. Kim's re-operation rate was 1%.  This research paper is on reducing the re-operation rate and also suggesting a successful Asian chest surgery method.
Thread Lift by Use of Retaining Ligaments
A New Concept in the Tip Plasty of Asian Rhinoplasty : The Flag Technique by Use of Only A Septal Cartillage
The finger tissue dissector for breast augmentation
(10-2014-0128686)
Forcep for cartilage graft (Nose)
(4-2000-016591-4)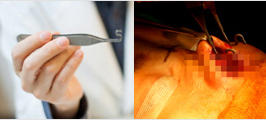 The fiberoptic Needle
(10-2011-82537)