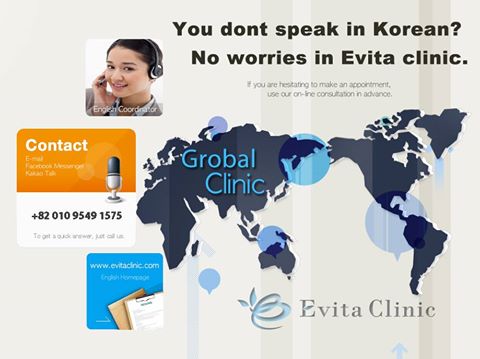 Вы не говорите по корейски? Не волнуйтесь, если вы в клинике Эвита.
Наш доктор свободно говорит по-английски, а наш английский координатор подробно объяснит каждую ситуацию, с которой вы столкнетесь.
Если вы не решаетесь записаться на прием, заранее воспользуйтесь нашей онлайн-консультацией. Электронная почта, мессенджер Facebook, приложение Какао. Чтобы получить быстрый ответ, просто позвоните нам.
E-mail, Facebook messenger, Kakao talk, every route is welcomed.
To get a quick answer, just call us.
Our doctors and all staffs are ready to give you clear answer.
Хотите получить больше информации? Наши контакты:
Телефон: +82 10 9549 1575
KaKao ID: evitakorea
Skype : evitaclinic@hotmail.com