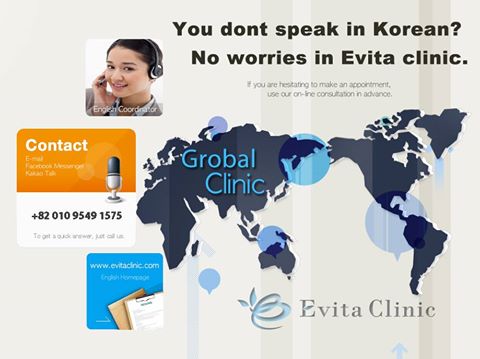 Tidak menguasai bahasa korea? Di Evita Klinik anda tidak perlu khawatir.
dokter kami berbicara bahasa igris dengan fasih, dan Koordinator kami akan menjelaskan secara detail tentang situasi yang akan anda jalani.
Jika Anda ragu untuk membuat reservasi, gunakan konsultasi online kami terlebih dahulu.
E-mail, Facebook messenger, Kakao talk, every route is welcomed.
To get a quick answer, just call us.
Our doctors and all staffs are ready to give you clear answer.
Ingin mendapatkan informasi lebih lanjut? Contact us:
Mobile: +82 10 9549 1575
KaKao ID: evitakorea
Skype : evitaclinic@hotmail.com