Abdominoplasty, also known as Tummy Tuck is a necessary option after liposcution.
Although our skin is versatile and flexible, sometimes removing large volume of fats could result to loose saggy skin. This is also what would commonly happen after loosing weight or after pegnancy.
Tummy Tuck is performed to remove excess skin and tightened the abdominal muscles.
A combination of these two procedures could create a flatter, firmer and curvier abdomen.
IDEAL DESGIN OF
Tummy Tuck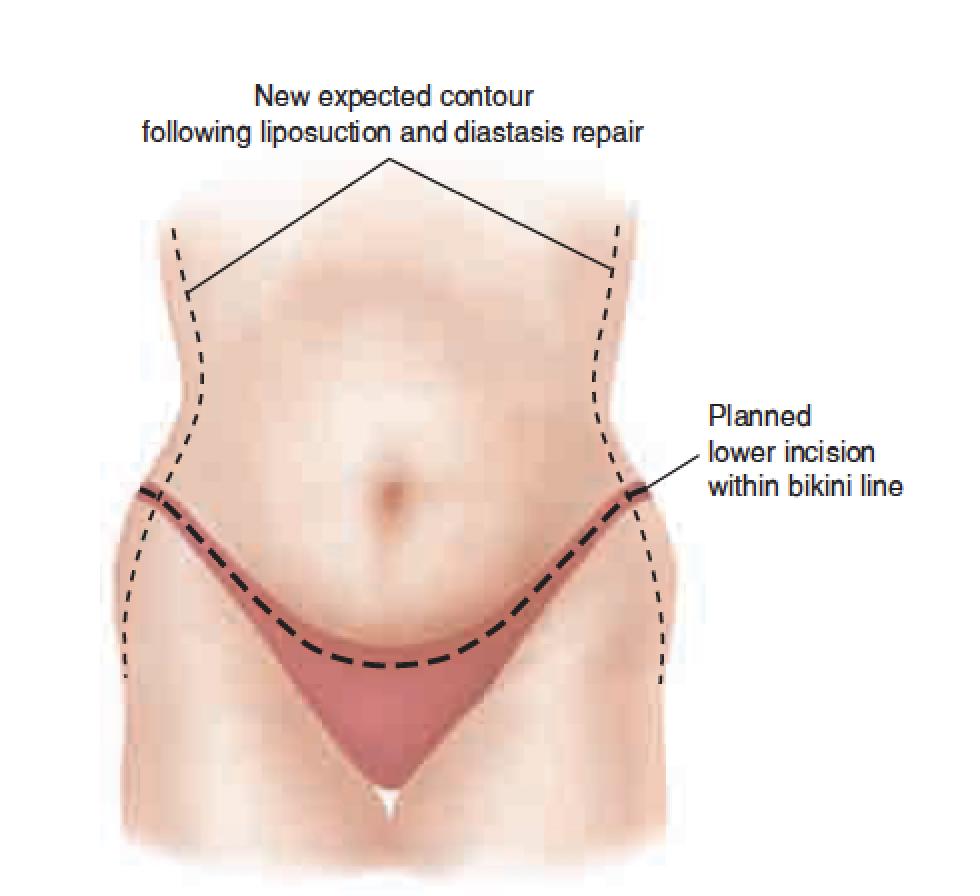 Abdominoplasty is often recommended to patients with low abdominal skin laxity, extensive stretch marks and/or severely stretched abdominal muscles as a result of pregnancy and excessive weight loss. These concerns cannot be solved by liposuction alone.
It is popularly known as Tummy Tuck but in our clinic, we refer to it as "Lipoabdominoplasty". This is because we perform abdominoplasty with liposuction.
It involves of fat and removal of a large section of skin from the lower abdomen, together with a surgical relocation of the belly button.
This procedure is considered a major surgery that would require an expert surgeon. Evita's surgeon, Dr. Jeon Cheol Woo, has been doing it for years. He does it with extensive analysis of patients's body and skin condition and careful and detailed surgical skills in doing the procedure.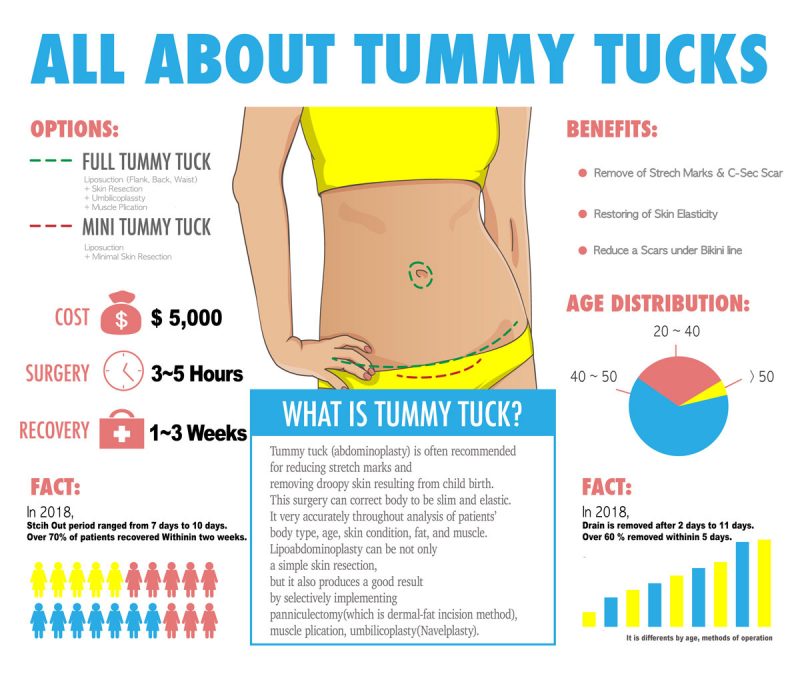 Pre-operative Instrctions
Induction of Sleep Anesthesia
Check the Amount of Drainage
Start & Increase Exercise
NO HOPITALIZATION
Postoperation Coarse
Evita's surgeon has been performing lipoabdominoplasty safely and effectively for many years. However, Tummy tuck is a major body contouring procedure, and, as such, it needs long recovery time and careful post-surgical care.
Patients need to rest for at least two weeks. They should plan to take at least this much time off from work and stay in Korea.
It is important for patients to stop smoking and maintain a healthy diet. Patients should also sleep with their heads elevated for at least 1 week after their surgery.
After operation, you will visit Evita Clinic everyday. We will check the wound & amount of drainage. If the wound is clean and drainage is below 30cc. Our surgeon will remove it. Also you have to wear a compression garment. Around your stomachs, compression garment can help minimize the risk of blood clots.
Usually, 1 weeks later, Stiches are removed step by step, And changed to Steri-Strip tape or Skin-Bond. That time, you can start stretching and do mild exercises.
Check our Specials Cost!
Total Cost of Lipoabdominoplasty is 5,000,000 won (KRW) + VAT 10% (about $ 4,700 USD)
Contact Us !
Our Office
We are located in Seoul, Apgujeong. Apgujeong belongs to district of Gang-nam, which well-known to foreigners, as downtown Seoul. If you take the limousine, you can get 6006 bus at In-cheon airport, and it directly comes to Apgujeong Station, you don't have to transfer. When you get off, just walking around 5 minutes, you can easily find us.
Clinic Location
5F, Burdamoon Building, 815, Nonhyun-Ro, Gangnam-Gu, Seoul, South Korea
Call Us To Schedule
You can contact us directly on +82 10 9549 1575 We're open Mon-Fri 10.00am - 8.00pm (GMT +9)
Call Us Today!
Call 82.2.549.1575 Today!
Send Us An Email
We will reviewing your details enquiry and will contact you by E-mail as soon as possible in the next 2~3 days. Finally, let the prospective patient know that you are reviewing their enquiry, will contact them soon and that you are looking forward to helping them with their treatment.
We're Standing By!
Email evitaclinic@gmail.com today!