OVERVIEW
Upper Arms Liposuction
1. What is arm liposuction?
Arm liposuction is the suctioning out of fats on the upper arm, lower arm, axillary fat pad and around the bra line.
Fats on the arms are very resistant and are hard to get rid of in spite of spending long hours in the gym and heavy dieting.
We love doing this procedure because it heals the fastest amongst all body areas and patients see tremendous improvements in their appearance.
2. Who needs it?
For some people, exercising alone is not enough to reduce or get rid of flabby upper arms.
Many patients who chose this surgery do so because they wish to confidently wear sleeveless clothing.
3. Procedure

Small incisions (under 5mm) are made on the elbow and the armpit.
Our clinic uses an Accusculp(R) 1444nm LASER combined with manual liposuction.

PRICE TABLE
360 Upper Arms Liposuction
Upper arms, axillary fat pad, around bra line

Staying Period in Korea: Min. 3 days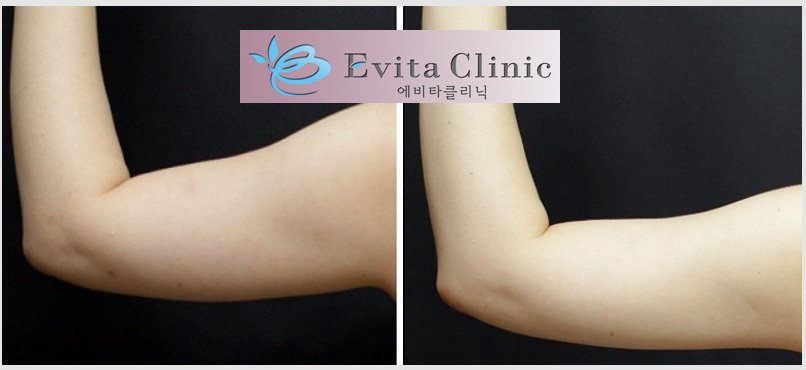 Patients are taken to recovery rooms after surgery to safely regain consciousness from anesthesia and receive appropriate post-operative care.
Patient's vital signs are closely monitored as the effects of anesthesia wear off. Evita's recovery room is spacious and private.
In this room, patients' guardians can wait, watch TV, read a book or simply just relax while waiting for their significant other to recuperate.

"The staff was very friendly and polite. The doctor speaks good English and he was very informative with all the details. The treatment went smoothly and professionally."
EYAD, Inchon
"The staff were very friendly and the doctor gave detailed explanation of the treatment. He also requested me to return for a follow up, despite my short stay in Korea, and tried to accommodate to my schedule as much as possible. The clinic also provided me with masks and creams to help with the healing process."
CINDY, SINGAPORE