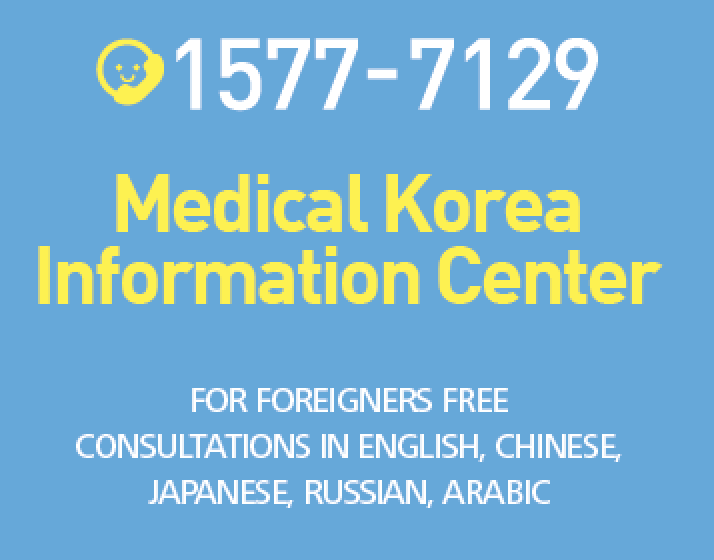 Tel. 1577-7129 From Abroad +82-1577-7129
callmcc@khidi.or.kr
www.medicalkorea.or.kr
www.facebook.com/MedicalTourismKorea
twitter.com/Medical_Korea
Comprehensive, All-Cycle Support Services for the Use of Korean Hospitals by Foreign Patients 
The Medical Korea Information Center provides comprehensive services for foreign patients in Korea such as interpretation service, guide to hospitals, legal aid, etc. The call center agents and staff of the center possess expert medical and legal knowledge.
One-Stop Support for Use of Korean Medical Services 
•Immigration and Visa Consulting
•Health Institution and Medical Product Information
•Cosmetic Surgery VAT Refund Guide(from April 1, 2016)
•Tourism Information (Places to Stay, Eat, Visit etc)
•Health Checkup Service Reservation Support
Medical Translation-Connecting Services 
• Interpretation Services Available in English, Japanese, Chinese, Russian, and Arabic
Foreign Patients' Complaints Reception and Support 
•Receipt of Complaints in Using Korean Hospitals
• Reception of Medical Disputes Mediation and Arbitration
•Illegal Broker Report, etc
* The information center is operated by the Korea Health Industry
Development Institute and Seoul City with the support of the
Ministry of Health and Welfare, Republic of Korea
Why Medical Korea?
Korea is a leading country in medical treatment, technology and research 
• Korea ranks Asia's best in international medical journal publication.
• Korea is one of the top countries for the clinical trial cases in the world.
• Korea's competitiveness in the treatment of cancers, cardiac and vascular diseases, spinal disc and organ transplantation belongs to the world's top tier.
• Korea is considered a world leader in cosmetic surgery, dermatology, and dentistry fields.
Korea is a World-Class Level in Acute Myocardial Infarction, Stroke and Cancer Treatment. According to Health Care Quality Indicators of OECD, 
• No 1 in Treatment Outcomes of Stroke, Colorectal cancer, and Cervical Cancer
• Continuous improvement in Treatment Outcomes of Acute Disease and Cancer· Illegal Broker Report, etc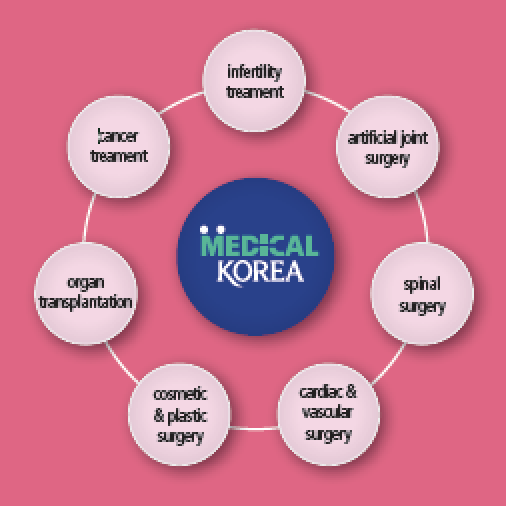 Information of Cosmetic Surgery V.A.T Refund

One-Stop Service for Health Check- Up Programs: search and reserve

Medical dispute mediation & arbitration for foreign patients

Act on Overseas Expansion of medical Services and Support for Attracting international Patient 

(Enforcement on June 23rd 2016) 
Location