Doctor Jeon worked as a professor at a university hospital and is a thoracic & cardiovascular specialist and famous for gynecomastia surgery, Body contouring, Varicose veins over 15 years.
Profile
Department of Body Contouring & Vascular Surgery in EVITA Clinic
Thoracic & Cardiovascular Surgeon
Liposcution / Gynecomastia / Varicose Vein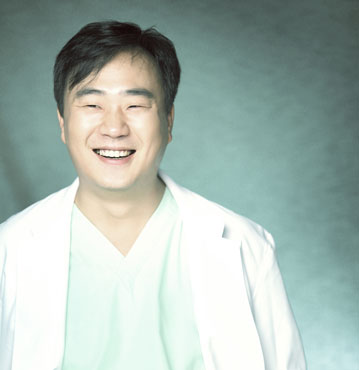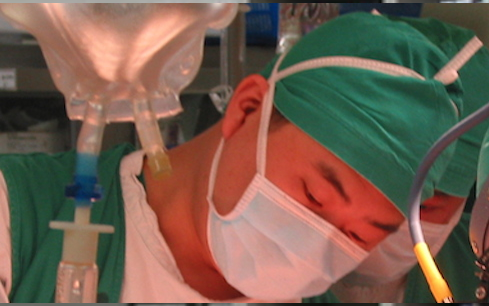 Education
Soonchunhyang Univ. of Medicine, Seoul, Korea, 1990
Internship in Soonchunhyang Univ. Hospital, 2000
Residency in Cardiovascular Surgery, 2003
Lecture of Soonchunhyang Univ, 2007
Experience
Public Health Manager in National Mokpo Hospital, 2006
Professor in Soonchunhyang Univ. Hospital, 2008
Chief Doctor of Premiere Plastic Surgery, Seoul, 2009
CEO of Evita Clinic, Present
Awards
2011 Man of The Year in Medicine & Healthcare, American Biographical Institute
Certificate
Member of The American Academy of Cosmetic Surgery (AACS)
Member of American Society for Laser Medicine & Surgery
Member of Worldwide Physicians's Network for Lipolysis and Aesthetic Medicine
Member of International Hyperhidrosis Society
Board Director of Korean Society of Aesthetic Surgery
Member of Korean Society of Laser Medicine & Surgery
Member of Korean Society for The Study of Obesity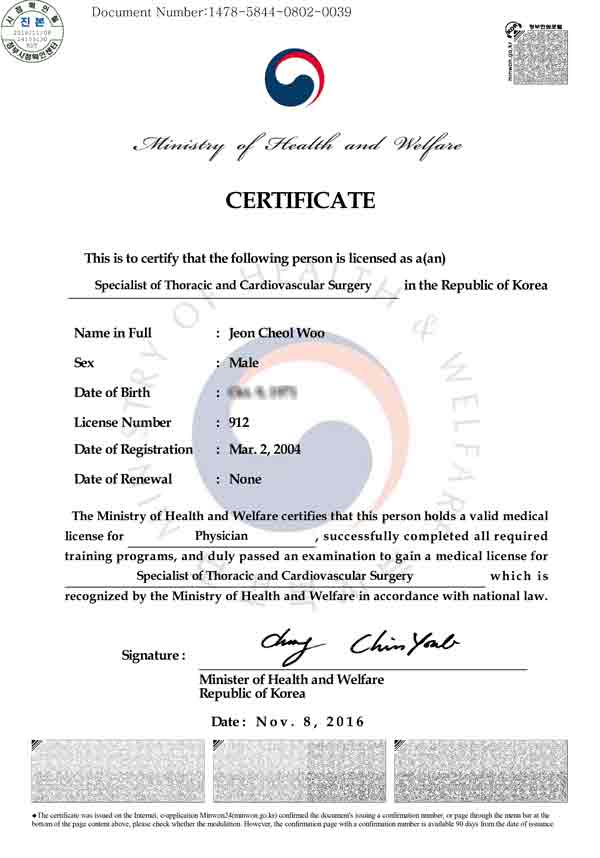 Activities
Advisory Doctor of "Naver – HiDOC"
Visiting Scholar of Soonchunhyan University
Executive director of Korean Society of Aesthetic Surgery
Pectus carinatum is so called pigeon chest,  describes a protrusion of the chest over the sternum by deformed cartilage.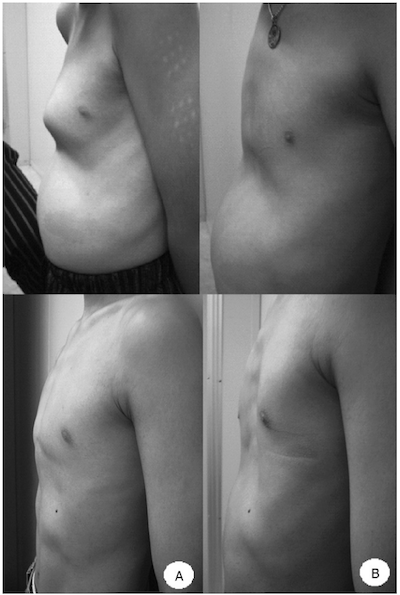 Journal of the American College of Surgeons ; Volume 208, No. 1, 2009, 164
Benign Symmetrical Lipomatosis (Madelung's Disease)
Madelung disease, also known as Madelung-Launois-Bensaude syndrome or neck lipomatosis, is a rare benign entity clinically characterised by the presence of multiple and symmetric, non-encapsulated masses of fatty tissue, usually involving the neck and the upper region of the trunk.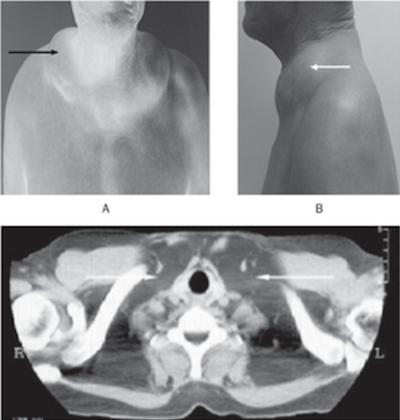 Dr. Jeon is responsible for your safety because he has had extensive heart, lung, vascular surgery, and emergency surgery .
Journal of Soonchunhyang Medical Science. ; 2000 ; 6(1): 65-69.

A Study for the Frequency of Blood Gas Analysis and the Amount of Blood loss after Blood Gas Analysis in Intensive Care Unit

Korean J Thorac Cardiovasc Surg, ; 2000 Jul; 033(07): 541-546

A Experimental Study for the Effect of Sodium Carboxymethyl Cellulose on Prevention of Pericardial Adhesion

The Korean Journal of Thoracic and Cardiovascular, Vol.35 No.12, 2002

Clinecal Investigation and Acute Complications of Remodelling Plasty of Costochondral Rib Cage For Pectus Excavatum

Korean J Thorac Cardiovasc Surg 2003;36:164-174

Minimally Invasive Repair of Pectus Excavatum Based on the Nuss Principle: An Evolution of Techniques and Early Results on 322 Patients

Korean J Thorac Cardiovasc Surg 2003;36:215-218

Loculated Empyema with Sternocostoclavicular Osteomyelitis and Neck Abscess

Korean J Thorac Cardiovasc Surg 2003;36:300-301

The Effect of Benztropine in Gustatory Hyperhidrosis

Korean J Thorac Cardiovasc Surg 2003;36:300-301

The Effect of Benztropine in Gustatory Hyperhidrosis

Jornal of Mokpo National Hospital 2004; 22(1): 43-60.

The Relation Between Sputum Acid-fast Smear Negative Transformation Speed and Treatment of Pulmonary Tuberculosis

Jornal of Mokpo National Hospital 2005; 23(1): 52-66

A Case of Hypothyroidism after p-aminosalicylic acid Long Term Medication

Jornal of Mokpo National Hospital 2006; 24(1): 93-103

Surgical Treatment of Spine Tuberculosis with Complete Paraplegia

Korean Journal of Thoracic and Cardiovascular Surgery Vol.40 No.5, 2007.5, 369-375

Treatment of Pectus Carinatum with a Compressive Brace

Korean Journal of Thoracic and Cardiovascular Surgery 2007 Sep; 040(09): 641-644.

Thrombectomy of Superior Mesenteric Artery Occulusion

Korean Journal of Thoracic and Cardiovascular Surgery 2008 Jun; 041(03): 390-394.

Thoracicl Actinomycosis Associated with Broncholithiasis – Report on 2 cases

JOURNAL OF THE KOREAN ASSOCIATION OF PEDIATRIC SURGEONS 2008 June; 14(1):94-97.

Mediastinal Bronchogenic Cyst Misdiagnosed as Asthma and Dysphagia in a Child – One Case Report –

The Korean Journal of Thoracic and Cardiovascular Surgery 2008 Dec; 041(06): 803-806.

Nuss Procedures using a Transilluminated Introducer
Microneedle Stamp of Arch Type And The Treastment Method
(10-1103558)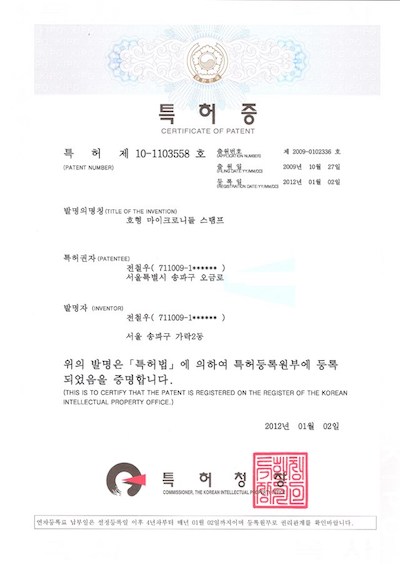 Microneedle Stamp Having an Ionic Terminal Therein
(10-1103558)