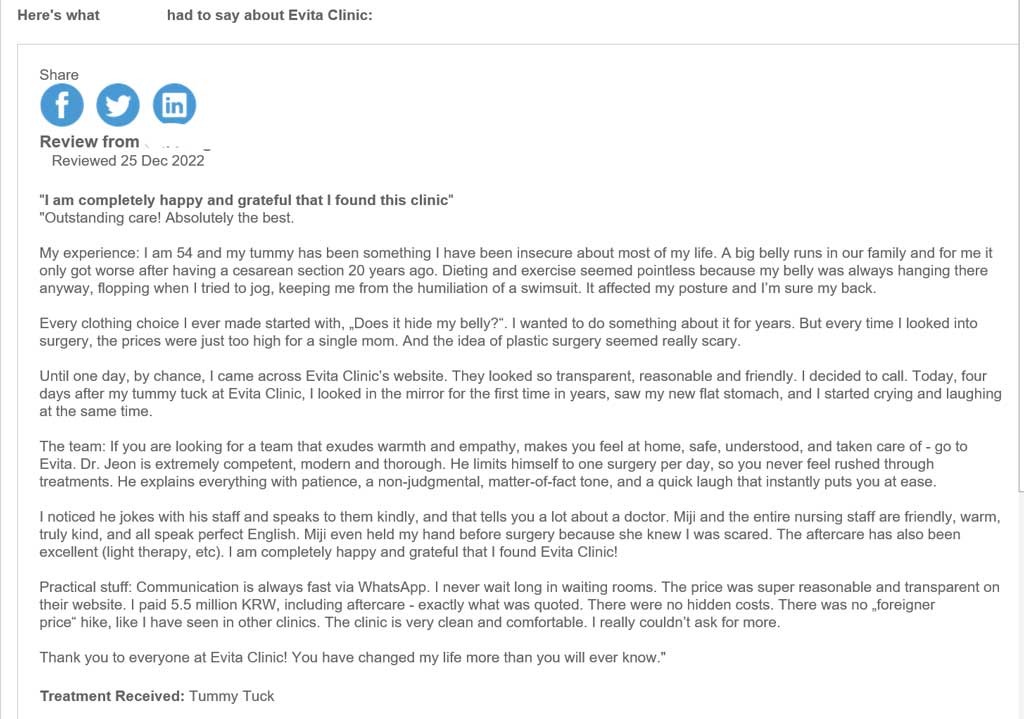 Reviewed 25 Dec 2022
"I am completely happy and grateful that I found this clinic"
"Outstanding care! Absolutely the best.
My experience: I am 54 and my tummy has been something I have been insecure about most of my life. A big belly runs in our family and for me it only got worse after having a cesarean section 20 years ago. Dieting and exercise seemed pointless because my belly was always hanging there anyway, flopping when I tried to jog, keeping me from the humiliation of a swimsuit. It affected my posture and I'm sure my back.
Every clothing choice I ever made started with, "Does it hide my belly?". I wanted to do something about it for years. But every time I looked into surgery, the prices were just too high for a single mom. And the idea of plastic surgery seemed really scary.
Until one day, by chance, I came across Evita Clinic's website. They looked so transparent, reasonable and friendly. I decided to call. Today, four days after my tummy tuck at Evita Clinic, I looked in the mirror for the first time in years, saw my new flat stomach, and I started crying and laughing at the same time.
The team: If you are looking for a team that exudes warmth and empathy, makes you feel at home, safe, understood, and taken care of – go to Evita. Dr. Jeon is extremely competent, modern and thorough. He limits himself to one surgery per day, so you never feel rushed through treatments. He explains everything with patience, a non-judgmental, matter-of-fact tone, and a quick laugh that instantly puts you at ease.
I noticed he jokes with his staff and speaks to them kindly, and that tells you a lot about a doctor. Miji and the entire nursing staff are friendly, warm, truly kind, and all speak perfect English. Miji even held my hand before surgery because she knew I was scared. The aftercare has also been excellent (light therapy, etc). I am completely happy and grateful that I found Evita Clinic!
Practical stuff: Communication is always fast via WhatsApp. I never wait long in waiting rooms. The price was super reasonable and transparent on their website. I paid 5.5 million KRW, including aftercare – exactly what was quoted. There were no hidden costs. There was no "foreigner price" hike, like I have seen in other clinics. The clinic is very clean and comfortable. I really couldn't ask for more.
Thank you to everyone at Evita Clinic! You have changed my life more than you will ever know."
Treatment Received: Tummy Tuck
https://www.whatclinic.com/cosmetic-plastic-surgery/south-korea/seoul/evita-clinic