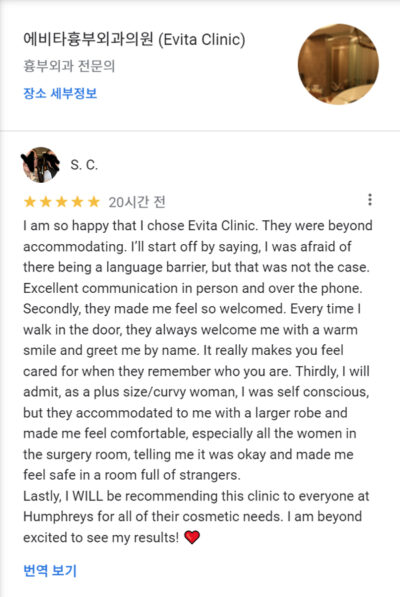 I am so happy that I chose Evita Clinic.
They were beyond accommodating.
I'll start off by saying, I was afraid of there being a language barrier, but that was not the case.
Excellent communication in person and over the phone. Secondly, they made me feel so welcomed.
Every time I walk in the door, they always welcome me with a warm smile and greet me by name.
It really makes you feel cared for when they remember who you are.
Thirdly, I will admit, as a plus size/curvy woman, I was self conscious, but they accommodated to me with a larger robe and made me feel comfortable, especially all the women in the surgery room, telling me it was okay and made me feel safe in a room full of strangers.
Lastly, I WILL be recommending this clinic to everyone at Humphreys for all of their cosmetic needs.
I am beyond excited to see my results! ❤️