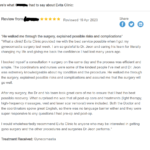 "What a clinic! Evita Clinic provided me with the best service possible when I got my gynecomastia surgery last week. I am so grateful to Dr. Jeon and caring his team for literally changing my life and giving me back the confidence I had lost many years ago.
I booked myself a consultation + surgery on the same day and the process was efficient and simple. The coordinators and nurses were some of the kindest people I've met and Dr. Jeon was extremely knowledgeable about my condition and the procedure. He walked me through the surgery, explained possible risks and complications and assured me that the surgery will go well.
After my surgery, the Dr and his team took great care of me to ensure that I had the best possible recovery. What surprised me was that all post-op care and treatments (light therapy, high-frequency massages, vest and laser scar removal) were included. Both the Doctor and the coordinators spoke great English, so there was no language barrier either and they were super responsive to any questions I had pre-op and post-op.
I would wholeheartedly recommend Evita Clinic to anyone who may be interested in getting gyno surgery and the other procedures and surgeries Dr Jeon performs."